Ash Creek
West, Texas
L6 Ordinary Chondrite
Yes
February 15, 2009 (1058 hrs)
~ 10 kilograms
A brilliant fireball and detonations were witnessed by many, and the former was captured on video by a news camera while filming participants running in the Austin marathon that Sunday morning. At first there was speculation by the media that the event was caused by debris entering the atmosphere after the accidental and recent collision of two satellites in orbit around Earth, though most everyone in the meteorite community knew right away this was a meteoric event. As this was a retrograde meteoroid, only very small individuals survived to become meteorites and very little of this material was recovered in the field (specimens below were recovered only days after the fall before they could be touched by rain).
Click this link for the video footage of this fall in progress
.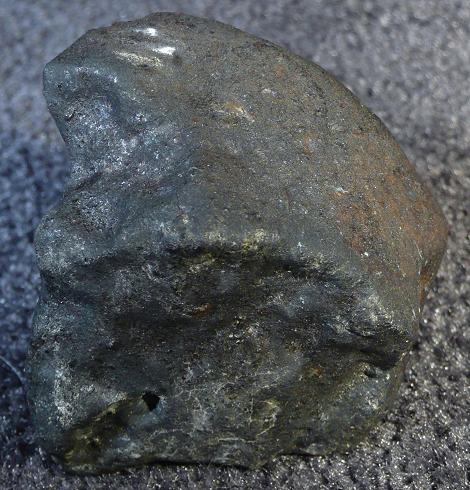 150.2 gram complete individual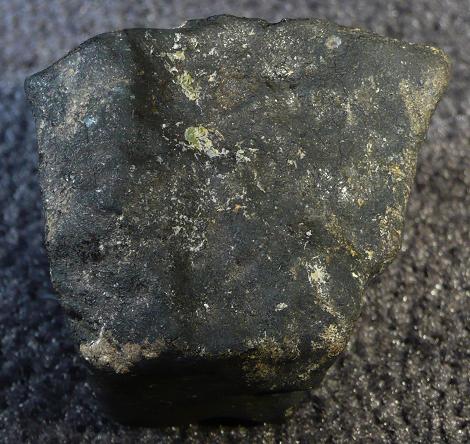 150.2 gram complete individual (angle with fresh grass imbedded in crust)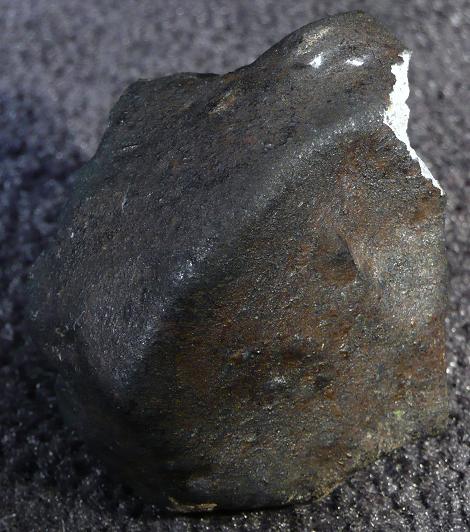 150.2 gram complete individual (alternate angle showing small air break on corner with pristine interior)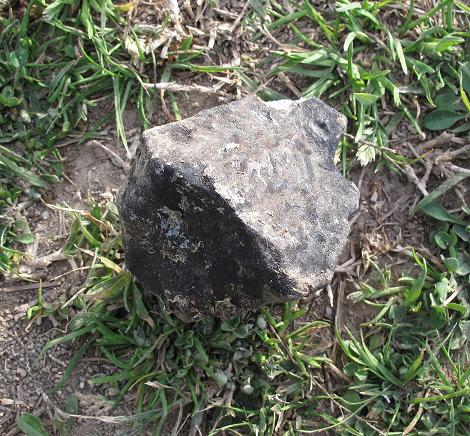 150.2 gram complete individual (in situ on 2.23.9, the date it was found)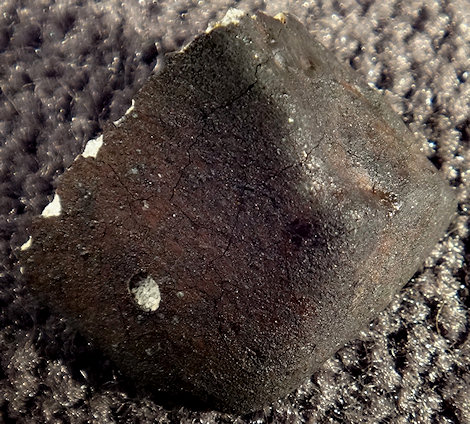 46.67 gram broken individual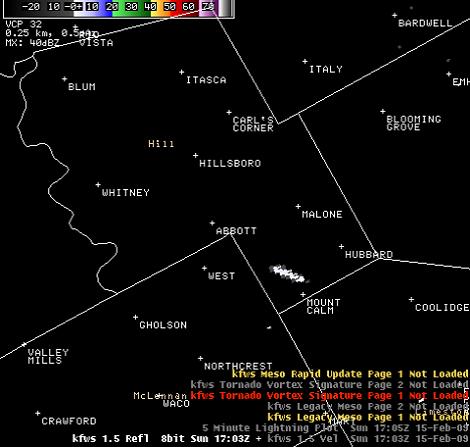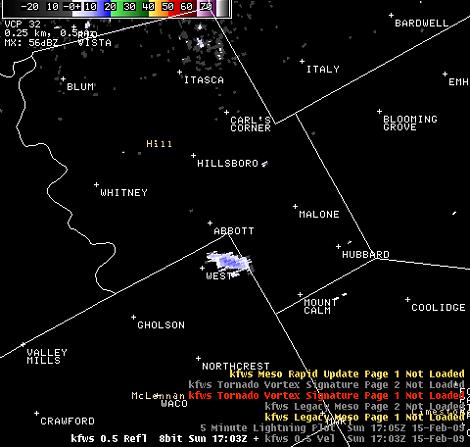 When Marc Fries' brother, Jeff, a meteorologist, noted that a dreadful image of space shuttle Columbia's reentry debris cloud was picked up by DOPPLER and mentioned it to Marc, he soon pursued his instantaneous hypothesis that perhaps a meteoric debris cloud could also be captured and employed in the subsequent recovery campaign. Some years passed before Marc, with NASA's Jet Propulsion Laboratory, could test his theory on an actual witnessed fall, and the Ash Creek event of February 2009, proved his case in dramatic fashion. Shown above is one pair of images which led to the successful and rapid recovery of the Ash Creek meteorite; the top was captured at 7,000 feet and the bottom was captured some three seconds later at 4,000 feet. This was a remarkable first in the field and will no doubt lead to an increasing recovery rate in the future.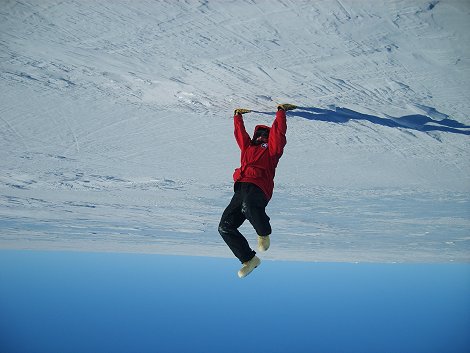 Marc Fries holding on to the bottom of the Earth while hunting meteorites in Antarctica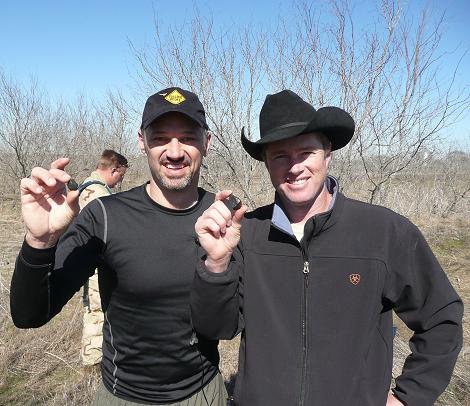 With Robert Ward in the West, Texas, strewn field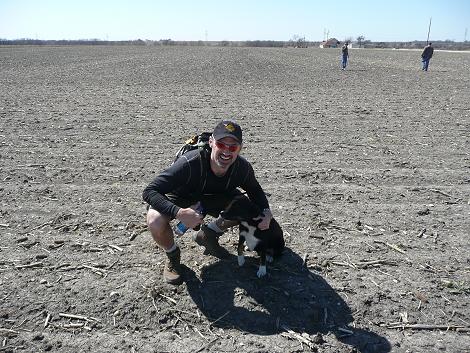 With Hopper, the meteorite finding dog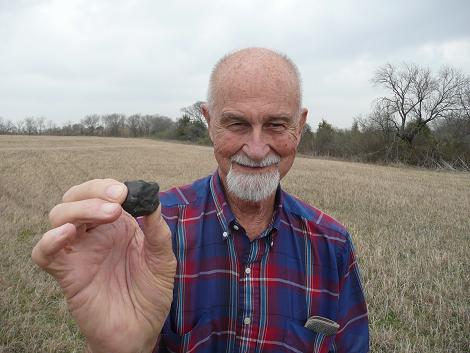 One of my favorite photos -- an image I took of Art Ehlmann on 3.8.9 with a freshly recovered specimen in the strewn field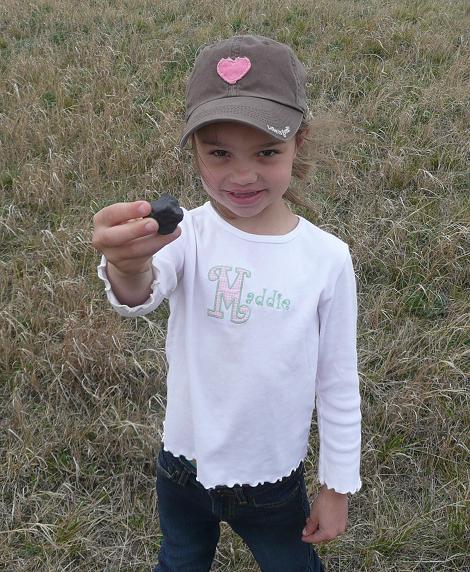 Maddie in West with the same individual Art was coveting